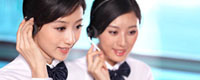 Tel: 0086-13924592127
E-mail: charlene@mpc-parts.com
Add: Lianheng Building, Annan Road, Longgang, Shenzhen
Skype: laptopscreen.doo
QQ: 914327617

Products
>
Laptop Charger
>
> 45W 19.5V 2.31A Power Supply Ac Adapter for Dell Inspiron 15 5000 5555 5558 5559 3552, XPS 13 9350 9333 Ultrabook, HK45NM140 LA45NM140 HA45NM140 Laptop Charger
Product name : 45W 19.5V 2.31A Power Supply Ac Adapter for Dell Inspiron 15 5000 5555 5558 5559 3552, XPS 13 9350 9333 Ultrabook, HK45NM140 LA45NM140 HA45NM140 Laptop Charger

Product No. : 2018425134416
Details:
45W 19.5V 2.31A Power Supply Ac Adapter for Dell Inspiron 15 5000 5555 5558 5559 3552, XPS 13 9350 9333 Ultrabook, HK45NM140 LA45NM140 HA45NM140 Laptop Charger



ATTENTION:
* Before placing order, please make sure that the item is sold by "Batterymon". The BatteryMon items have 12-month waranty.
* Other sellers don't belong to the BatteryMon Company. Their items are out of the waranty. If their items have any problems, nobody is responsible for them.



ABOUT BATTERYMON
BatteryMon has registered a U.S. Trademark. The Serial Number is 87345973. BatteryMon offers diverse consumer tech solutions including batteries and adapters. BatteryMon products have passed CE, ROHS certifications. The built-in protection circuit ensures both safety stability fast charging and low power consumption for your device.



BatteryMon AC Adapter Description
* Overheating Protection with Smart Chip
* Overload Protection with High Quality Wires
* Anti-Interference Feature with better Isolation Materials
* High quality, rubberized texture extra long AC/DC Cord
Specifications:
Compatible Model:
Compatible P/N:

​​Note
1) In order to get a correct adapter, please double check if your original adapter's output and connector size are the same as ours firstly.
2) Our compatible list is not complete. If you have any problems, please feel free to let us know. We shall try our best to solve it for you.
3) The item has 12-month waranty. We will be alway here to support, and try our best to make you satisfied.